How Do I Feel About Myself?
"I am deeply lonely… I feel empty inside." "I can't be alone." "I'm passive, drifting; I can't even make 'simple' decisions." "I'm angry." "I'm hard-hearted and detached." "My life is driven by a deep sense of shame." "I'm struggling in my relationship with God." "I desire to experience the peace that is supposed to pass all understanding." "I would like to learn to seek others out rather than choose to isolate." I would like to learn to relate to God as a loving Father." "I would like to live out of the truth of who God says I am, rather than what I may believe about myself." "What does it really mean to 'love others as I love myself?'"
How Are My Relationships with Others?
"I fear relating honestly to others." "I'm co-dependent… I live my life through others." "I refuse to connect emotionally with others." "I just can't keep appropriate boundaries." "I find it hard to be known and live behind a mask." "I'm the victim of abusive relationships." "I feel anger or hatred towards women or men." "I have a fear of commitment." "I want to connect with others from a place of relational health." "I want to learn to say, 'No.'" "Authenticity is a deep desire of mine, but it seems beyond my reach." "I would like to learn to initiate relationships with others from a place a strength, rather than weakness." "I want to find relational wholeness in my relationship with God so that I have something to offer others."
How Are My Sexual Relationships?
"I act promiscuously." "I use pornography." "I can't keep my own sexual boundaries with others." "I'm a victim of abusive relationships." "I read erotic literature and novels." "I use or engage in prostitution." "I have self-identified, unwanted, same sex attraction (unwanted homosexual or lesbian feelings)." "I'm married to or in a relationship with someone dealing with these sexual issues." "I long to experience sexual intimacy as God intended." "How can I learn to love again after having trust broken?" "I want to forgive my loved one."
Our Vision
To become a voice of hope and a place of restoration for those in sexual and relational conflict throughout every community within Central Pennsylvania.
---
We are a nonprofit counseling organization that provides Christ-centered education and support to individuals and families who struggle with or are impacted by sexual brokenness.
We are an interdenominational ministry which offers counseling and support services to those overcoming sexual conflicts such as sexual compulsivity, sexual addiction, sexual abuse, and sexual identity issues, such as homosexuality.
We strive to be a help to those who struggle with sexual conflicts, to help them to manage their sexuality to the glory of God through abstinence or through developing the ability to enter into and maintain an intimate, lifelong, monogamous, heterosexual marriage.
We believe our purpose is to be a model of the practical experience of the grace of God to and within the Christian community.
---
How You Can Help
Day Seven depends on the generosity of like-minded churches, businesses and donors to bring hope and restoration to individuals and families walking through sexual and relational difficulties. Your donation via the button below will help low and no-income clients receive the Christ-centered counseling, education, and support they need.
Support Day Seven Ministries
---
Day Seven Ministries is a 501(c)3 not-for-profit organization that is supported by individuals, churches, and businesses throughout the area.
History
---
"There remains then, a Sabbath-rest for the people of God; for those who enter God's rest also rest from their own work, just as God did from His. Let us, therefore, make every effort to enter that rest, so that no one will perish by following their example of disobedience." — Hebrews 4:9-11 (TNIV)
When Enos Daniel Martin, M.D., founded Day Seven Ministries over 27 years ago, he was looking for a name that communicated the need to "rest from our fruitless efforts to save ourselves" from the sins with which we struggle. The name Day Seven reflects the example of our Savior who rested on the seventh day of Creation. And, that is what we have been attempting to do for the past 20 years – help people find rest from their sexual and relational struggles.
Originally located in Elizabethtown, PA, Day Seven Ministries now has its main office in Lancaster and branch offices in Camp Hill and Reading. Recovery groups also operate throughout South-Central PA.
Bill Malay
M.A., C.S.D.
Prior to beginning his current position as Executive Director with Day Seven Ministries, Bill spent 22 years in pastoral ministry in California, Kentucky and New York. He graduated from Houghton College followed by Asbury Theological Seminary and later earned his spiritual direction credential from the Epiphany Institute in Pittsburgh. His current responsibilities at Day Seven include building relationships with pastors and community agencies, providing seminars for churches and community groups, and leadership and administrative responsibilities. He has a passion for helping others live up to their full calling and potential and loves to see people's inner inspiration become real and concrete. Bill and his wife, Maria, have four children. Bill does not see clients individually at this time.
Andrew Rodriguez
M.S.
Andrew first started with Day Seven in 2006 while completing his BS in Psychology at Valley Forge Christian College (now University of Valley Forge). With his training at Day Seven he launched a group at his college campus for men dealing with sexual abuse and other trauma, addiction, and unwanted same-sex attraction, which he continues to run today. Andrew is trained and experienced in various mainstream models, which he is careful to apply through a biblical framework. He is passionate about guiding believers into understanding and walking in their identities in Christ. In addition to counseling, Andrew and his wife, Jessica, serve as the youth pastors at True North Christian Church in Trappe. Andrew sees clients at the Reading location.
Zach Reichert
M.A.
Zach grew up about an hour from Lancaster and like many others his age, was unsure what direction to go after high school. Although he didn't have a strong pull to a particular field of study, he felt that Lancaster Bible college was a good fit to continue his education. Through various experiences and opportunities, he felt that the counseling field was where he needed to be and serve. Zach interned with Day Seven for three years and finished graduate school in 2012, when he officially came on staff as a counselor. His passion for helping and hearing others has led him to enjoy what he does, in speaking truth and showing grace through individual counseling and recovery groups. Zach sees clients at both the Lancaster and Reading locations.
Stephanie Graybill
M.A.
Steph grew up in Lancaster County and went on to achieve a Bachelors Degree in Organizational Leadership from Regent University and a Masters Degree in Clinical Mental Health Counseling from Edinboro University. Previously, Steph worked as a youth minister and college residence hall director, and her passion for women's issues and helping young adults grow and achieve their goals continues to motivate her life and career. She also currently works as a therapist with members of the Plain Communities, operating from a cognitive-behavioral orientation. Steph loves traveling, and if you can't find her hanging out in a local coffee shop, she is probably skydiving in Scotland. Stephanie sees clients at our Mechanicsburg location.
Michael Courtney
L.P.C, M.S.
Michael began his second stint serving Day Seven Ministries as a counselor in January, 2012. He holds a Bachelor of Science degree in Secondary Education from the University of Arkansas and a Masters of Science in Clinical Psychology from Millersville University. He is a member of the American Association of Christian Counselors, the American Counseling Association, and the Pennsylvania Psychology Association.  He enjoys reading, playing basketball with his sons, and hiking the Rocky Mountains. He is passionate about helping people to resolve painful pasts, relational difficulties, emotional dysfunction, and addictive ruts. Michael sees clients at both the Lancaster and Mechanicsburg locations.
Dr. Tom Miller
M.A., C.PhD..
As a younger man after many mistakes I came to the realization that the direction in which I was traveling was futile. Involved in a failing business; remembering the biblical teachings I received in my youth, I began to beg God for a life with meaning according to His choosing. I was totally lost and told Him of all my shortcomings and desires. Later with answer to my prayers God gave me a new direction. Since that day I have accomplished a B.A. and M.A. in the field of Biblical Counseling and a C.Phd. in the Philosophy of Clinical Counseling Psychology. I have been working as a Pastoral Counselor for 13 years helping the hurting find peace and healing for their lives and families. Tom sees clients at the Lancaster and location.
Craig Hickey
M.Div.
Craig works part-time for Day Seven Ministries as an intake counselor and in various other roles as the opportunity arises. He is the author of a memoir, "A Walk with God to Remember," about his first wife who died of leukemia. A graduate of Gordon-Conwell Theological Seminary, he has worked in campus ministry with InterVarsity Christian Fellowship, in church ministry with an Evangelical Free congregation, in recovery ministry with Water Street Ministries, and in chaplain ministry with Willow Valley Communities. He is married to Diane and has two daughters adopted from China. Craig does intakes at the Lancaster location.
Nicolas Wilbur
M.A.
Nick received his Master of Arts in Counseling from Biblical Theological Seminary. He has a Bachelors Degree from Union University where he received his BS in Business Administration. After being in the business world for six years, he decided to make a change. He worked for an at-risk youth camp where he helped families work through trauma and restore their broken relationships. During this time, he developed his passion for helping others restore relationships. This is when Nick felt called to go into counseling. Nick is married and enjoys spending time with his wife and friends. He likes spending time outdoors, but also like watching movies on his surround sound. Nick sees clients at the Mechanicsburg location.
Rebecca King
M.S.W., L.S.W.
Rebecca is a Licensed Social Worker who received a Bachelors degree in Psychology from Dallas Baptist University and a Masters in Social Work from Millersville University. She is a Lancaster county native and lives with her husband and two daughters in the Manheim area. As a life-long resident, she is interested in addressing the strengths and growth opportunities inherent to Lancaster county culture within the therapeutic process. Rebecca is passionate about promoting the integration of spiritual and emotional health, believing that one is not complete without the other. This focus translates into many areas including individual wellness, sexual health, relational and marital health, and a variety of mental health issues. Rebecca sees clients at the Lancaster location.
Walt Stine
B.A., M.S.W.
Walt, his wife and children grew up in South Central Pa. Since high school, he has been drawn to the stories of those whose hearts are hurting and longing to find peace and hope for a better way to live. He earned his Masters in Social Work from Temple's Harrisburg Campus, after receiving his B.S in Bible, with a minor in Counseling from Lancaster Bible College. His 30 years of experience with individuals, couples and families include a broad range of ages from preschool to Seniors. Walt's passion is encouraging and supporting individuals and families in restoring hope, healing and wholeness to their lives, through the use of Integrated Mental Health and Biblical Models of Treatment. Currently he works full time as a Therapist with members of the Plain Community. Walt sees clients at the Mechanicsburg location.
Casey Raudenbush
B.A., M.A.
Casey is a recent graduate of Lancaster Bible College, having graduated with a MA in Marriage and Family Counseling. Prior to this, she received her undergraduate degree from Lycoming College, studying religion and psychology. She began interning with Day Seven in May 2014. In addition to her work at Day Seven, Casey also has experience working with individuals with substance addictions and eating disorders. She also spent 3 years working with children on the autism spectrum. Casey is passionate about being able to walk with individuals, couples, and families on the road to restoration, utilizing a counseling model that both honors Biblical truth and psychological insight. Casey sees clients at the Mechanicsburg location.
Wendy King
B.A., M.A.
Wendy first joined Day Seven as a counseling intern through Lancaster Bible College. Prior to attending college, Wendy completed a YWAM DTS where God laid counseling on her heart, specifically for those dealing with sexual brokenness. Knowing education would be necessary, she graduated with her Masters in Professional Counseling from Lancaster Bible College in 2014 and continued on with Day Seven. She enjoys walking with others through their hurts and struggles as well as watching them experience victory in big and small ways through individual therapy and groups. She and her husband attend Petra Church in New Holland. Wendy sees clients at both the Lancaster and Reading locations.
Danielle Broadhecker
B.A., M.A.
Danielle Brodhecker earned a BA in Sociology at Virginia Wesleyan College. She is working on her Masters in Mental Health Counseling at Lancaster Bible College. Danielle has wanted to help others from a young age. Prior to beginning her education at LBC, she became impassioned to help restore trafficking victims. This lead her to want to intern at Day Seven Ministries where she has the opportunity to help abuse victims. Also, in helping those who are impacted by sex addiction, Danielle hopes she can impact the demand for trafficking victims. Danielle sees clients at the Lancaster location.
Gary L. Lord
Ph.D.
Gary is an experienced Licensed Clinical Psychologist passionate about helping people improve their lives. He works with those struggling with sexual and intimacy problems, anxiety, depression, PTSD, and with the elderly in successful aging. He does stress management, anger management, and works with abuse victims.  His focus in counseling is, and has been for 30 years, relationships and problems with intimacy and anything that prevents individuals and couples from achieving healthy, effective, faithful, and fulfilling lives. In addition to his clinical work, Gary has done executive coaching and consulting with businesses and organizations, and he has taught and done research at universities and colleges.  Gary and his wife, Temmy, live in Leola.  Gary sees clients at the Lancaster and Reading locations.
Renee Maloy
M.A.
Renee is a mother to a daughter and son-in-law and grandmother to two grandchildren. Renee's undergraduate degrees in chemistry and biology equipped her with a pre-med background, and later she completed her first Masters Degree in Business Management (MBA). She started her counseling career ten years ago when she established a non-profit organization that focused on the reduction of stressors in the lives of adults and youth. Renee then completed a Masters Degree in Marketplace Chaplaincy with a concentration in Christian Counseling. A second passion she is pursuing is the establishment of transitional housing and counseling for women coming out of human trafficking. Renee sees clients at the Mechanicsburg location.
Todd Henley
M.A. in progress
Todd grew up in inner city Philadelphia and while in high school sensed a call to ministry. Through life experiences and specialized training, God sovereignly re-directed Todd's life t0 counsel men who are sexually broken. He received his BS from Lancaster Bible College; MA in Leadership Studies from the Graduate School of Lancaster Bible College and is simultaneously pursuing an MA in Counseling from Biblical Theological Seminary and Certification in Sex Addiction Therapy.Todd's passion is to see men who have been trapped in the bondage of sexual sin, relational struggles and self-deception be released by the grace of God and restored to places of honor and leadership in their families, churches, and communities. Todd and his wife, Yvette, live in the Coatesville area and have 4 wonderful children.Todd sees clients at both the Lancaster and Conestoga locations.
Services
Day Seven Ministries offers professional, confidential, Christian counseling to individuals, couples, adolescents, and families affected by sexual and relational brokenness issues. Each counselor at Day Seven Ministries is a committed Christian who is equipped to integrate the Christian faith with psychotherapy techniques. We approach counseling from a solid Biblical perspective, because we believe that ultimate healing and true freedom comes through an active, growing relationship with Jesus Christ, and that this relationship affects change in all areas of life.
Although each counselor has a slightly different approach to the counseling process, our idea or theory can be described as:
Biblically based and Christ-centered
Cognitive-behavioral
Family Systems
Modified 12-step emphasis and integration recovery model approach
Our professional Christian counselors will address any issue related to sexuality, including sexual addiction, pornography, sexual abuse, unwanted same-sex attraction, gender confusion, emotionally dependent relationships, promiscuous sexual relationships, marital unfaithfulness and various other sexual relationships. We also provide counseling for individuals who have a sexually addicted spouse and family members who have a loved one who struggles with a sexual issue.
We counsel men, women, couples, families, and adolescents over age 14.
---
Recovery Groups
We believe that healing is facilitated through honesty within the context of safe relationships.
Recovery Groups at Day Seven Ministries offer a place where people can talk about their struggles,
find support, receive accountability, and be placed in contact with resources to information
that will aid them in their recovery.
Day Seven Ministries groups meet weekly and are often led by men and women who were once participants. Each group is slightly different; however, all groups focus on healing from
sexual brokenness issues. Listed below are the types of groups offered:
Men's Recovery – for men who struggle with sexual addiction, unwanted same-sex attraction or other sexual and relational issues.
Women's Recovery – for women who struggle with sexual addiction, unwanted same-sex attraction or other sexual and relational issues.
Wives' Recovery – for women whose spouses struggle with sexual brokenness issues.
Day Seven Ministries' recovery groups operate on a quarterly basis and require an individual commitment
to that time frame. However, new participants are welcome at any time. An intake appointment is
necessary for group participation. This appointment allows us to match a new participant to
the appropriate group, discuss group guidelines and confidentiality, and protect the
safety of all group members.
Groups are currently available in Camp Hill, Harrisburg, Lancaster, and Mountville.
For more information or to schedule an Intake in preparation for participating in a Recovery Group,
call the Day Seven Ministries office at (717) 735-0690 or toll-free at (866) 301-3297.
General
Day Seven Ministries staff and counselors are available for a variety of speaking engagements that can be customized to your organization's specific needs. Seminars and workshops cover
a variety of topics relating to sexual brokenness and healing. In the past, we have presented
seminars or workshops for churches, women's and men's Bible studies, youth groups, pregnancy
centers, group homes, camps, colleges, and nonprofit organizations.
Conference and Workshop Topics include but are not limited to:
"What is Day Seven all About and Why Do We Exist?"
This is a general talk in which the reality of sexual brokenness is shared along with Day Seven Ministries'
vision to be a voice of hope and a place of restoration for those in sexual and relational conflict
throughout each and every community within Central PA.
"Can't We All Just Get Along?"
If we are all supposed to be Christians, why is there conflict within the body? What does it mean to truly
live together in community, not just skip out when the going gets rough? This workshop will explore
what the Bible says about how to handle conflict with our brothers and sisters in Christ
and what it teaches us about ourselves.
Sexual Issues
"Ministering Redemptively With Hope to People Who Struggle With Same Sex Attraction."
In our culture, people struggling with SSA are often presented with two options: learn to embrace the
attraction or learn to live with condemnation. But, there is another way. The church is to be the
hands and feet of Jesus ministering to people in their brokenness. Through the church, the
hope of Christ and His redemptive power may be extended to those who feel hopeless and
powerless over their attraction.
"Pornography"
Pornography has become a distructive force in our society today. It affects children, families, relationships, even jobs. How do we deal with it? Why is the law into my personal business? What are the boundaries? These are just a few questions we will address.
"Honest Talks About Sex"
This series of interactive workshops is designed to help people talk openly about sex and sexuality
and its place in today's culture. These workshops cover a variety of topics including a biblical
overview of sexuality, perspectives on gender and sexuality, cultural messages about sex,
and why God created sex. It also addresses issues such as homosexuality,
exual addiction, and masturbation.
"What Does The Bible Say About That?"
The Bible has a lot to say about sexuality, homosexuality, gender, and God's design for us. This
workshop explores those truths and discusses them in the context of today's culture and
the messages being' portrayed through the media.
"Addiction Recovery"
Sexual Addiction can be an unacceptable topic to accept and discuss. It is no different than other addiction such as alcohol, food or excessive spending to name just a few. Becoming aware of the addiction is the first step. Then acceptance and accountability for the addiction. Other topics covered in the seminar are:
1.  How does one become addicted?
2.  How the brain is wired?
3.  How do I cope with the addiction?
4.  Why is it difficult to break the addiction?
"Co-morbidity Disorders Associated with Sexual Addiction"
There are disorders that compound the addiction making it difficult for a person to cope and take charge of their life. We will discuss the disorders, awareness and impacts from the disorders, and coping skills.
"Emotionally Dependent Relationships and Same Sex Attraction in Women"
Women thrive on relationships, but what happens when those relationships go awry? This workshop
addresses the roots and causes of emotionally dependent relationships and same-sex attraction.
It also discusses differences between healthy and unhealthy relationships and how to guard
friendships from becoming unhealthy.
Dating & Marriage
"God, Sex and Love"
Encourage your congregation to explore God's special design for men and women at this unique 4-week seminar series.
This shared journey will provide greater clarity on what God says about sex and love, why God cares about sex, how the cultural definition of love differs from God's, and what the purposes of sex, love and marriage are.
Parenting
"A Father's Impact on His Son's Masculinity"
When observing a young boy imitating the way
his dad walks or talks, it quickly becomes evident that fathers leave a powerful imprint on their sons.
This talk examines a child's perception of his father and how this perception impacts who he desires
to be one day. In addition to this, we will examine what it means to be in the image of daddy and
why a son wants to be like him more than anything else.
"Parenting in a Porn-is-the-Norm Culture"
What is a parent to do when pornographic images are everywhere? The purpose of this seminar is to share
the reality of the culture they are parenting their children in as well as to present ideas as to
how parents can engage their children in conversations that will help them to navigate this
cultural minefield without resorting to a bunker mentality.
Relationships & Identity
"Boundaries in Relationships"
Learn how, when, and why it is sometimes necessary to set boundaries in relationships. Discover
what a boundary is and how it can be used to guard and protect yourself and the relationships
that are important in your life.
"The Anatomy of a Healthy Relationship"
Learn the key ingredients for a healthy relationship, including:
Intentionality and commitment
Setting and respecting boundaries
Building safety, trust, and intimacy
Conflict resolution
Freedom to dream
"Accountability"
What is it? Who designs it? Why do you need it? How do you get it?
A definition and discussion on the basics of accountability relationships, God's plan for us in
accountability relationships, and the process of putting accountability as a practical
discipline into our lives will all be presented in this workshop.
"What Am I Worth?"
Exploring How and Where We Gain Our Value
Many times we try to find our value and worth in all of the wrong places instead of looking to
our Creator. Learn what it means to be known in Christ and find our significance in Him.
Day Seven charges a modest honorarium fee for our Speaker's Bureau to come to your place of ministry and deliver a seminar. Weekend conferences, Sunday preaching and Sunday School modules of all the above seminars are also available. To schedule a speaking engagement or for more information, call the Day Seven Ministries
office at (717) 735-0690.
Articles We Like
---
The Four Levels of Listening by D. Craig Hickey
Tuesday, February 21st, 2017, 12:23
A mother and her teenage son were arguing in the kitchen. The issue was what time for him to be home on a weekend night. Standing by the sink, with her arms folded she just could not understand why he was so adamant about being out late.
He sulked in the chair at the kitchen table. "You never listen to me," he complained.
"Yes, I do," she countered, "Look, I let you explain for quite a few minutes. I never interrupted; I was as quiet as a church mouse that whole time. What do you want me to do?"
He quickly flashed back, "Listen with your heart, not just your ears!"
"What?"
"Yes, I could tell to everything I said, yes you never responded, but I could tell you had an argument for each thing I said."
The son was right; he could read her body language and her non-verbal cues. He knew his mother well enough to see that though she was quiet, she wasn't taking it in. She wasn't really open to hear from her son. She had already made up her mind; she wasn't really listening.
Are we really like that?
If we are good listeners we have to work hard so we totally understand the speaker. James 1:19 says, "My dear brothers and sisters, take note of this: Everyone should be quick to listen, slow to speak and slow to become angry…" Listening is the priority over speaking!
When I first started doing intakes for men coming into Day Seven for counseling, I would come away exhausted from each session, and I couldn't understand why. The prospective counselee was doing all the talking. But I soon realized listening is hard work, because you have to listen at a number of different levels.
Level #1 – Listening to the Words
The first level, of course is the words. Easy, right? But it takes some work with difficult issues to understand what they are really saying. People use words in different ways, sometimes we don't even hear correctly. And more importantly we need to understand what they really mean. You will miss them altogether if you address the issue without fully understanding them. So you have to ask good questions to clarify their points.
Level #2 – Observing Non-Verbal Communication
The second level involves the emotions. You "listen" as well through observing them. What does their body language say? Perhaps their arms are crossed or they are looking down as they talk. Perhaps they are staring very intently at you, or they only respond with one-word answers. It is all part of their communication of their feelings to you. Seeing that can help you be more sensitive to them.
Level #3 – Communicationg While Listening
The third level for me is what I am saying to them. Though I am listening to them, I am saying a lot that effects the conversation. The tone of my questions, my sense of humor, my facial expressions, my body language; all tell them how I am reacting to what they are saying.
Level #4 – Listening to God
And lastly there is the level of what is the Lord saying to you in the midst of this conversation. Any significant conversation is a sacred interaction between two creatures made in God's image. We shouldn't take that lightly. And it just may be that God has something for that other person that you would not have thought of on your own. He may whisper something to you for them. It may not be an amazing insight, but just the way you phrased a question said something to them. There have been times when somebody reported back to me an amazing breakthrough because of a conversation I had had with them, that I didn't even remember. Somehow God used me!
So as you are reading this article, are you "listening" to it at all four levels? Are you catching the meaning of what I am saying? I am not there in person, but can you catch the tone of what I am saying? Are you aware of how you are reacting to it? And are you hearing what God is saying to you through it?
Yoo-hoo, are you listening?
---
Is It Okay to Take Sexy Photos of Myself for My Husband? by Sheila Wray Gregoire
Friday, January 13th, 2017, 3:59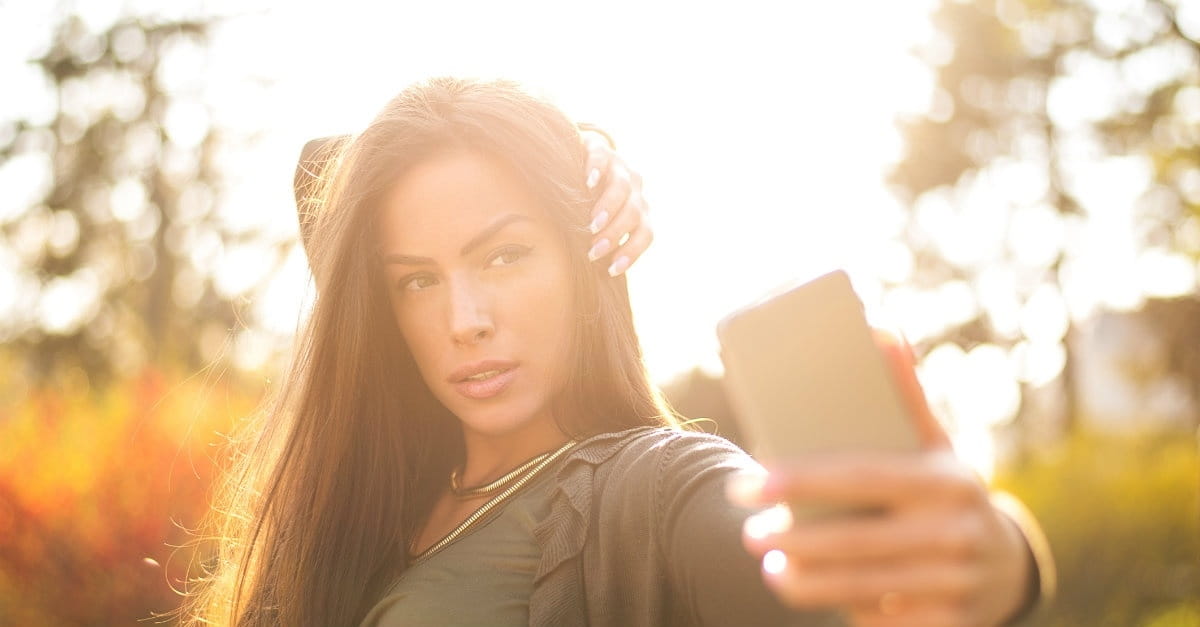 Today's reader question is one I get asked a lot, even in person, but often in whispers: Is it okay to take sexy pics for my husband?
After all, he's allowed to see you naked, so there's nothing actually wrong with it, right? And there are even "classy" places that will do boudoir photo shoots, with you in lingerie. That would be a good gift, wouldn't it? Especially if he were going away for a time (like a military deployment)?
Well, let's think this one through, because I don't think it has a black and white answer. Like many things in marriage, I'm inclined to say, "it depends." So here are just a few thoughts that I have, and then you can work it through in your own marriage.
We all know this; we see it all the time with celebrities. But it's true for "real life," as well. Photos that you intend to stay private often don't. Kids may come across them (and who wants their kids seeing this?). If they're on a phone, someone else may see it.
If you're going to take pictures, personally, I'd make sure they were erased right away. Let them be something to tease him with, not something he keeps with him.
Now, at the same time, I'm not a military person, and so I've never had that six month or a year separation. But I'm not sure sexy photos would make that year easier. It would be great if some military wives could chime in on this one, because I really do feel out of my depth on that one, and I'm reminded again of the gratitude I have for those in the service. So I'll let someone with more experience in that area make a more definitive statement.
The Worry: Are You Recreating Porn?
Men are visual, and we like to be thought of as "the beauty," as the Eldredge's say in their books. I think appreciating a woman's beauty, and seeing her revealed, is something that is innate in us, and isn't necessarily bad.
However, we live in an extremely pornographic society, and so many men are really struggling with porn.
I do not think that you defeat porn by becoming porn.
The problem with porn is not ONLY that you're looking at someone other than your wife; the problem with porn is that it makes sex into something which is entirely about the physical and not about a relationship. It makes sex into "I'm going to lust and get my needs met," rather than "we're going to experience this together." And that is a very, very difficult thing to break. In fact, in many ways that's harder than the porn. A guy may find that he's able to give up porn, but he may not find that his sex drive for his wife comes back. It may stay dormant. It doesn't mean she's not attractive; it's just that he's trained his body to respond to anonymous images, and not to a relationship. And that takes time to deal with.
It's like this: I don't think there's anything wrong with a glass of wine. But for an alcoholic, that's a tremendously bad idea. Even just being at a place where people are drinking is hard. Similarly, there's nothing wrong with an Oreo cookie. But if you're trying to change your eating habits and get your body to start craving food that's real, then giving in all the time to that Oreo won't complete that retraining process, and could disrupt it.
I received an email yesterday by a woman who is sick of having to initiate sex. I couldn't really figure out what the problem is, but then she made a throw away comment in the middle of the email that sometimes she's too cold to do a striptease. So I think tomorrow I'll write about what initiating sex is (and it certainly does NOT have to involve a striptease or be that elaborate! Not that there's anything wrong with elaborate). But it became that her husband wanted to put her in certain positions and do certain things that he liked watching in porn.
That's not healthy. There's nothing wrong with spicing things up in the bedroom and having fun.
But if you're recreating porn, you end up objectifying yourself and pushing him back into this fantasy mode, not into relationship mode.
You're not ever making love; you're just using each other (or he's using you). That's not good.
This struggle pops up in a lot of ways and in a lot of questions I get, and not just about taking pictures. If your husband has used porn, recreating it will not ease his addiction to the porn and bring him back to you. Wearing more lingerie and acting sexier will not get rid of the porn; in some ways it just solidifies it. You become just what's on the screen. Sure, it's good that it's you and not her, but the fundamental problem remains: you've warped what sex is supposed to be.
So those would be my concerns. If you've read through those, and you don't think they apply to you (because your sex life is both intimate and fun, and porn isn't an issue), and you don't intend to store the pictures, then I really don't think there's anything wrong. But please, heed the red flags, and really think it through first. If you feel like it's wrong, then it very well may be for you, and that may be God's way of prompting you to tread carefully!
Sheila Wray Gregoire is a marriage blogger, speaker, writer, and mom. The author of seven books, including The Good Girl's Guide to Great Sex, she loves encouraging women to strive for the kind of real intimacy in marriage that God designed. When she's not blogging at To Love, Honor and Vacuum, you can find her on Facebook, Twitter, and Pinterest!
---
In Touch With The Heart
Monday, August 8th, 2016, 12:12
Pastor Pete Scazzero had for 8 years been the founding pastor of one of the most diverse churches in America. Planted in Queens, New York, he had people in his church from 67 different countries. It was a big, active, growing church! They emphasized all the right aspects of Christian discipleship; evangelism, Bible study, Quiet times and family devotions. Everything was going well until first, one of his assistant pastors betrayed him, left the church and took a portion of it with him. Then, after some years of tension in their marriage, his wife put her foot down and declared, "I quit; I am not going to this church anymore." Imagine the pastor's wife not wanting to be in the church! And then finally, Pete experienced a strange, life-threatening disease that stopped him in his tracks altogether. After 6 months of recuperating, God finally had his attention.
Pete began to see he was not paying attention to a big thing – the emotions. He was living a life of denial. He was so busy pastoring this big successful church, getting program after program up and running that he was only living on the superficial. He wasn't catching what was going on underneath the surface. So he missed that his assistant pastor needed to be invested in and cared for, but he just got him running part of the church. He missed that his wife was desperately lonely at home with the children, and felt totally neglected. And sadly he wasn't paying attention to his own needs for rest, intimacy and care, until his body could take it no more.
So he began slowly with his wife, rebuilding what had been lost, listening to her and spending time with the kids. He began to be more present for her. And as he changed there, his interactions with the church changed as well as he saw what was missing in the life of the church. It was not an emotionally healthy church! And just as he had originally built it, he rebuilt it in an emotionally healthy way.*
A lot of churches emphasize the words of Jesus in Mark 8:34-35, ""If anyone wishes to come after Me, he must deny himself, and take up his cross and follow Me. For whoever wishes to save his life will lose it, but whoever loses his life for My sake and the gospel's will save it." And they interpret it, as meaning they must deny their emotions, and not listen to them. Certainly we don't follow everything our emotions tell us to do, but they do give us clues about what is happening in our hearts. And if we don't pay attention, we will be like Pete and miss the deeper real needs underneath for ourselves and others.
Probably the most powerful example is King David. The Psalms are full of his feelings about whatever he was going through. There are few Biblical authors who reveal so much of their inner lives. Why does he do it? In Psalm 139:23-24, David prays, "Search me, O God, and know my heart, try me, and know my thoughts. And see if there be any wicked way in me, and lead me in the way everlasting." (KJV) So he asks God to show him his heart and then in humility he opens his heart to us in the pages of the Psalms.
So what can you do? Take time with the Lord, not to only pray for others, confess your sins and give thanks, but to listen. Listen to your heart and what you are feeling and ask the Lord why and what you need to do about it. For some that might mean journaling, for others it means listening to music, for still others it means going for a walk in the woods. Or you can do all three.
And then with someone you can trust, open up about what you are feeling. Take a risk and be vulnerable with others and share your heart. As you do you will be more in touch with your feelings and you will grow more and more emotionally healthy and more and more spiritually mature.
You can find the original article here: https://craighickey1.wordpress.com/2016/08/08/in-touch-with-the-heart/
---
Day Seven Ministries Locations
What Happens First?
Contact our office for more information or to schedule an appointment at 717.735.0690 or 866.301.DAY7, or email dayseven@dayseven.net. Your initial contact with Day Seven does not obligate you to our counseling services. We charge modest fees for our services and financial help is available. However, scholarship funds are limited and you may be waitlisted during times of high demand.
---
Contact Details

dayseven@dayseven.net

717.735.0690 or (Toll Free) 866.301.DAY7

802 Olde Hickory Road Lancaster, PA 17601

310 Hertzler Rd, Mechanicsburg PA 17055

2286 Hopewell Road Elverson, PA 19520
Thanks, your message has been sent
We'll be in touch soon
Our Agency
200 Collins St.
Melbourne, Victoria 3000